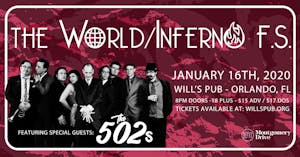 Presented by Montgomery Drive
The World / Inferno Friendship Society
The 502s
Will's Pub
Orlando
,
FL
$15.00 - $17.00
Sales Ended
Montgomery Drive Presents The World/Inferno Friendship Society with Special Guests The 502s
The World/Inferno Friendship Society (also referred to as "World/Inferno", "Inferno", or "W/IFS") is punk/soul/klezmer/jazz band from Brooklyn, NY. While its collective membership features horns, piano and guitar and has a membership of about 40 players, only about seven to ten active members usually perform at a time.
The group is led by singer Jack Terricloth, who has been the only constant during the group's history. Its lyrics often concern historical or biographical subjects, such as Weimar-era Germany, Peter Lorre, Jeffrey Lee Pierce of The Gun Club, Paul Robeson, Leni Riefenstahl, Dante Alighieri, Philip K. Dick, and Jonathan Fire*Eater.
January 16th, 2020
Will's Pub - Orlando, FL
8PM - 18 UP - $15 ADV / $17 DOS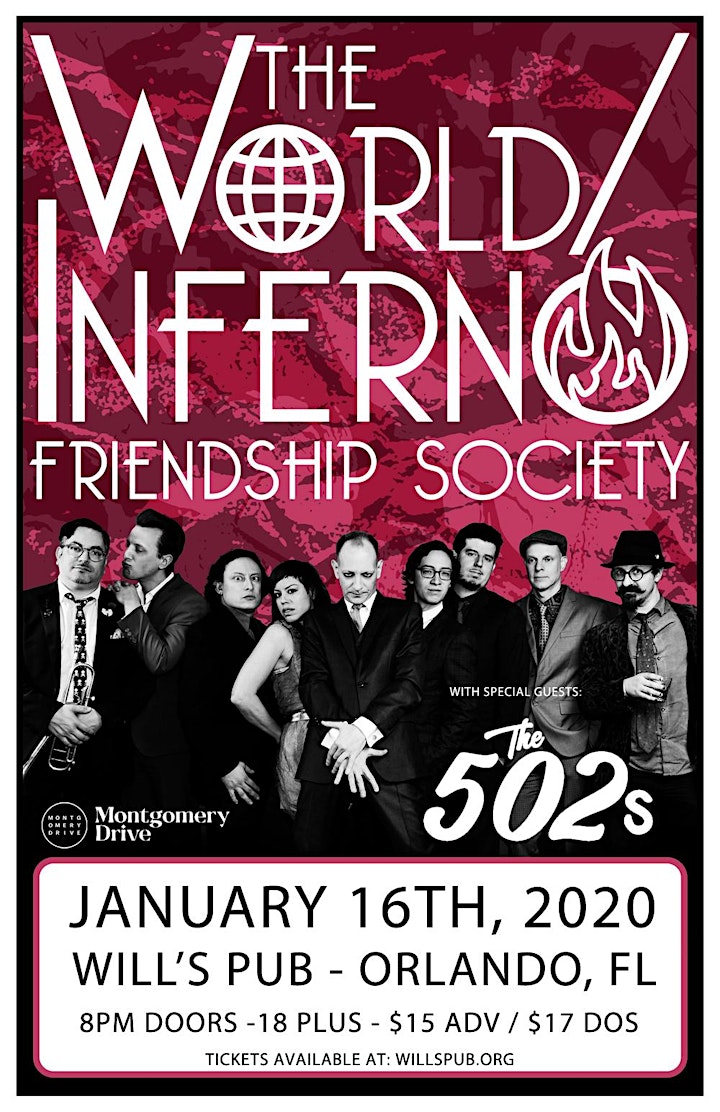 Venue Information:
Will's Pub
1042 N Mills Avenue
Orlando, FL, 32803