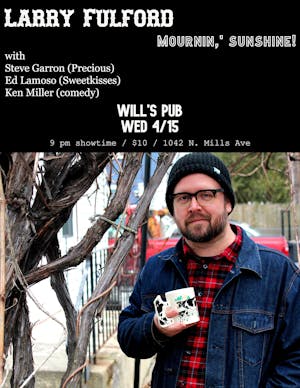 Larry Fulford: Mournin', Sunshine!
Will's Pub
Orlando
,
FL
$7.00 - $10.00
Tickets At The Door
Larry Fulford: Mournin', Sunshine! With performances by Steve Garron, Ed Lamoso, & Ken Miller!
Dear Orlando,
I'm comedian and recovering musician, Larry Fulford. I turned 40 years old this year and have no money for a motorcycle or tattoo, so I'm doing the next best 40-year-old thing:
traveling 1,294 miles to the town I started in and the bar I used to work at to put on a show with some of the Orlando songwriters and comedians who had an impact on my life. Because there's nothing more attractive than refusing to grow up.
Steve Garron was the singer/guitarist of Precious. In my late teens, I'd drive from St. Cloud to Orlando to watch them melt faces. They were insanely good and put out two full-length records before calling it quits. Steve still writes and records, but this is about me and my nostalgia, so ... Precious.
Ed Lamoso was the singer/guitarist of The Sweetkisses, who I fawned over in my 20s and eventually became the drummer for. I was like the nerd from That Thing You Do who loved The Oneders if he also got to be their drummer.
Ken Miller is a stand-up comedian who ran the mic at The Other Bar when I started comedy at 31. He recently won Steve Harvey's Stand Up Spotlight competition and is considered the "godfather of Orlando comedy," so none of us wanted to suck in front of Ken, but we did anyway.
Getting all these guys on the same show, and I think pulling Ed out of retirement, is my 40th birthday present to myself and all of you, whether you're already a fan or about to be.
xoxo,
Larry Fulford
Precious https://precious1.bandcamp.com/album/precious
The Sweetkisses https://thesweetkisses.bandcamp.com/releases
Ken Miller http://kenmillerthecomic.com/
Larry Fulford https://larryfulford.com/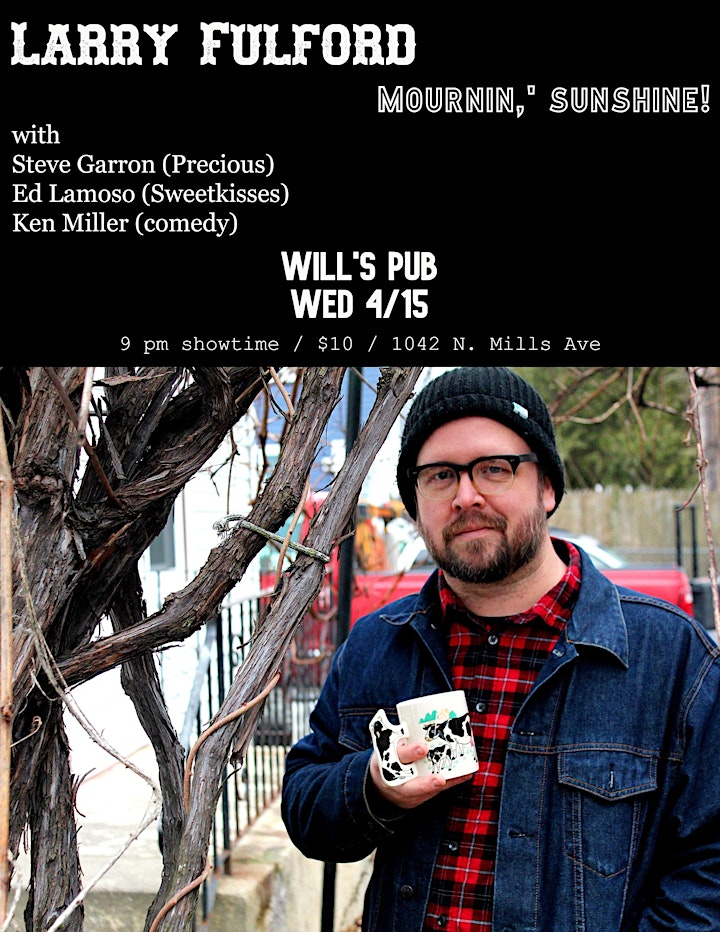 Venue Information:
Will's Pub
1042 N Mills Avenue
Orlando, FL, 32803