1999 - a two night event celebrating music & culture from the year
Will's Pub
Orlando
,
FL
$10.00 - $15.00
Tickets At The Door
The Pauses present: 1999 - a two night event celebrating music & culture from the year at Will's Pub!
You set your Napster to bulk-download, updated your Livejournal, and Bailamos-ed down to your neighborhood Fight Club with a Go-Gurt in hand to show off your spot-on Jar Jar Binks impression.
It was 1999, and you weren't gonna let first or second rules prevent you from talking about how beautiful plastic bags can be when they catch the right breeze.
Well, now you can finally brag about all those Nokia Snake high scores, as Will's Pub is transported back in time....to 1999!
Schedule your Blackberries for...
Friday, December 6th
And
Saturday, December 7th
The Pauses will be taking you back 20 years with Music, Movies, Games, Foods, Beepers, a Blair Witch themed photobooth, F-R-I-E-N-D-S, raffles, trivia, themed drinks, and a few other surprises.
Friday - The Pauses, E-Turn, and Beth Mckee will perform full cover sets featuring songs by Smash Mouth, Macy Gray, The Roots & many more!
Saturday - The Pauses, Timothy Eerie, and Virginity will perform full cover sets featuring songs by Nine Inch Nails, Len, Blink-182 & many more!
Both nights will be hosted by Luscious Lisa, and will feature DJ Jason Ferguson (Fri.) and DJ Smilin' Dan (Sat.), who will be spinning all of your favorites from the year in between sets. Be sure to skate up and get your requests in!
So, bring your Y2K paranoia, bullet-time moves, and red stapler; this is the chance you've been waiting for to ask everyone if every single thing they say is their final answer.
And don't forget to Ask Jeeves about visiting our state-of-the-art internet website page: http://www.thepauses.com/1999
- - - - - - - - - - - - - - - - - - - - - - - - - - - - - - - - - - -
Doors at 9:00 pm / 18+up
$10 Advance / $12 Day of Show - or - get a $15 Weekend Pass for both nights!
Tickets available at Park Ave CDs and WillsPub.org
All proceeds from the raffle will be donated to CMT (Charcot Marie Tooth) research, a disease of the peripheral nerves that controls and weakens the muscles and is currently incurable. Learn more: http://www.cmtausa.org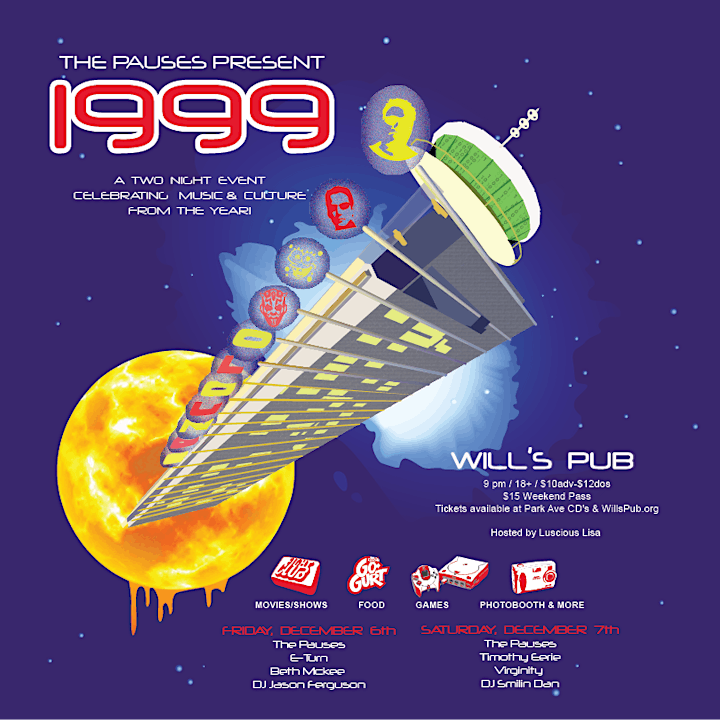 Venue Information:
Will's Pub
1042 N Mills Avenue
Orlando, FL, 32803